Chris Olson, PT, MSPT
email hidden; JavaScript is required
Chris earned a Division I scholarship as a basketball player at the University of Miami (FL), where she graduated with a bachelor's degree in health sciences.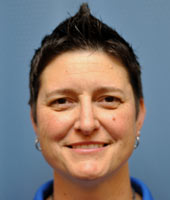 In addition to seeing many athletic injuries, Chris got a first-hand experience of rigorous physical therapy when she tore her ACL during her sophomore year. After eight months, she returned to the court to complete the final 2 years of her career. This experience solidified her desire to become a  physical therapist and she stayed at the University to complete her Masters's in Physical Therapy.
Chris began working at Sports Rehabilitation Center in 2004 and is the Clinic Director at the Midtown Clinic. In addition, she is in charge of Physical therapy student affiliations as the Center Coordinator for Clinical Education (CCCE). She continues to engage in education and has completed advanced training in dry needling and manual therapy. Chris loves treating motivated patients regardless of their injuries and offers the best care, so they can reach their goals.
In addition to basketball, Chris has run a half marathon, biked 280-miles in three days for charity, kayaks often and rock climbs several times a week.