WHY US?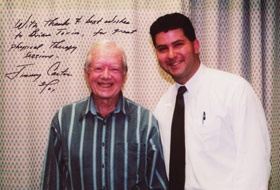 Why would over a dozen Olympic medalists, hundreds of professional and college athletes, heads of corporations, and even a former President of the United States choose to be treated by the staff at The Sports Rehabilitation Center? For the same reasons you should choose us! The Sports Rehabilitation Center is a physical therapist-owned company that embraces the concept of placing patients first. Our clinics emphasize a low patient-volume with a focus on providing the highest quality of patient care. Improving quality-of-life and returning patients to their prior level of activity remain our primary goals. Our patient and physician satisfaction has rated excellent for almost 20 years.
Whether you are a professional athlete, a weekend warrior, or a couch potato, our expert staff will design a rehabilitation program to meet your needs. Why choose us?
Our Staff…recognized leaders in the field
Our experienced team includes physical therapists who are Board Certified in orthopaedic and sports physical therapy and Fellows of the American Academy of Orthopaedic Manual Physical Therapists.
Our staff is engaged in scholarly activities including teaching continuing education courses nationally and internationally, publishing journal articles and book chapters, editing/writing textbooks, and lecturing at local universities.
Our Patients…placing them first
New patients are scheduled for appointments within 24-48 hours of calling.
Patients do not spend their valuable time sitting in a waiting room – they are seen at the time they are scheduled.
Only 1-2 patients are scheduled per hour for adequate one-on-one, hands on care
Each patient will see the SAME physical therapist each visit.
Our clinic hours are from 7 a.m. to 7 p.m. to accommodate individual schedules and free parking is available directly in front of the clinic.
Locker rooms with showers are provided for patient convenience.
Our services…complete musculoskeletal care for all ages
Our services address the musculoskeletal treatment needs of pediatric, adolescent, adult, geriatric, and women's health conditions.
Our advanced treatment techniques include manual therapy, trigger point dry-needling, aquatic therapy, kinesiotaping, mechanical traction, thermal modalities, neuromuscular stimulation, sport specific rehabilitation, and exercise prescription.
Our clinics contain state-of-the art exercise equipment including a full line of stack weights, cardiovascular equipment, and an underwater treadmill.
Spanish-speaking physical therapists are available
Exercise prescription…empowering the patient through technology
Home exercises are a vital part to a successful rehabilitation program and for the prevention of further injuries.
Unfortunately, traditional paper handouts are not completely effective as they are either lost or not followed correctly, so The Sports Rehabilitation Center has decided to raise the bar.
We have partnered with a company called Your Home Exercise Program so that patients get a customized exercise prescription done in a video format. This video is emailed to them and can be accessed via computer or a hand held device.
This service is like having a physical therapist with you wherever you are!
Leave the details…to us
Our office staff will verify all benefits so that each patient is informed of their specific coverage PRIOR to coming in for treatment.
Our office staff will file all primary insurance claims for our patients.
Our office staff will track insurance coverage throughout the treatment program and inform patients of any changes.
SERVICES
The Sports Rehabilitation Center specializes in the treatment of orthopaedic and sports-related injuries.