Jason Reiss, PT, DPT, OCS
email hidden; JavaScript is required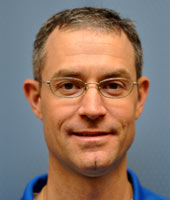 Jason received his Masters in Physical Therapy degree from Emory University and has specialized in orthopedic and sports physical therapy since 2000.  He later received his Doctorate in Physical Therapy degree from Marymount University.  He has been a member of the Sports Rehabilitation Center team for over ten years, starting as a staff therapist at our midtown clinic.  He then directed the opening of our Brookhaven clinic in 2003 and more recently opened the Sandy springs office as a partner / director in 2009.  Jason is dedicated to providing exceptional care and creating an atmosphere where patients feel comfortable.  Jason states that, "we work hard to provide an excellent experience for all of our patients.  We spend one-on-one time with each patient and create a treatment plan that is individualized and specific to their needs and goals."  He not only focuses on each patient's main concerns, but also emphasizes the patient's overall health and well-being.
Wanting to provide the highest quality patient care, Jason continuously works on enhancing his knowledge by participating in formal education and continuing education courses both as a participant and teacher.  He has advanced training and certifications, including dry needling, mobilization and manipulation, therapeutic taping, and neurodynamics.  Jason has been an adjunct assistant professor in Georgia State's DPT Program and currently serves as adjunct clinical assistant professor in Mercer University's Orthopedic Residency Program.  He has published a book chapter in Physical Therapies in Sport and Exercise, focused on rehabilitation of athletes in multiple sports.
Jason is a member of Georgia Physical Therapy Association and the American Physical Therapy Association (APTA), including the Private Practice, Sports, and Orthopedic sections.  As a Board Certified Orthopedic Certified Specialist (OCS), he is recognized as a leading specialist in the treatment of orthopedic conditions.
Outside of work, Jason spends time with his wife, Aimee, and their four children, Tyler, Vincent, Cecelia, and Elena.  He is involved with his kid's sports activities and enjoys running, swimming and hiking for enjoyment and exercise.