Tips for a Successful Peachtree Road Race
  

Tips for a Successful Peachtree Road Race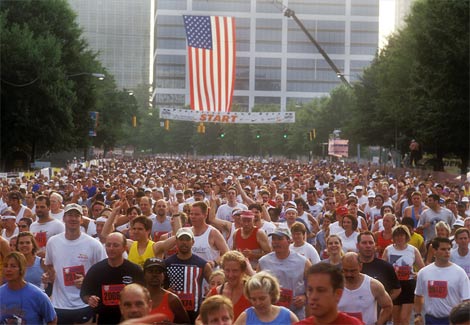 There are only 2 weeks left until the largest 10K in the world, the Peachtree Road Race! Are you prepared?  With weeks of training behind you, we have some tips for the last weeks leading up to your race and a few helpful hints for race day.   If you have any other questions, please contact the experts at the Sports Rehab Center!
Know the warning signs of heat related illness

– If you experience headaches, dizziness, chills, nausea, feelings of disorientation, or excessive fatigue, you may be experiencing heat exhaustion and should walk/rest and hydrate. Ignoring theses symptoms can lead to heat stroke, a serious condition that requires hospitalization.

Become familiar with the course-

Most race courses in Atlanta are hilly and the Peachtree Road race is no exception.  It is a good idea to train on hills and even practice running the infamous "Cardiac Hill" in preparation.

Proper clothing choice

– The Atlanta heat and humidity can lead to excessive perspiration.  Wearing clothes that draw away moisture and promote ventilation will help keep your body temperature cool.

Run in the middle of the road

– For drainage purposes, most roads are the flattest in the middle and slope down to each side.  If possible, try to stay in the middle of the road to prevent excessive stress going through one side of the body.

Stick with what works

– Race day is NOT the time to try out your new running shoes or new socks.  Stick with what has worked throughout your training.  Doing something different on race day could lead to painful blisters, aches, and even injury if you are not careful!

Hydrate before, during, and after

– July 4th in Atlanta, GA means hot and humid weather which makes it even more important to stay hydrated!  Be sure to drink water even before you are thirsty to prevent dehydration.