WHAT IS PELVIC FLOOR REHABILITATION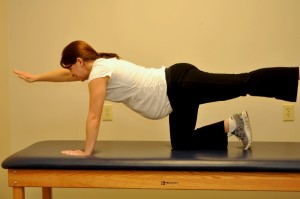 Pelvic Floor rehabilitation encompasses a wide variety of diagnosis, some that are unique to the female body and some that are experienced by males. People who experience these conditions suffer silently, because they are too embarrassed to mention it to their doctor and think that there are no treatment options. However, many pelvic disorders respond amazingly well to treatment by a physical therapist who specializes in these conditions.
WHAT ARE THE SPECIFIC CONDITIONS TREATED BY A PELVIC FLOOR REHABILITATION SPECIALIST
Bowel and Bladder problems

Urinary incontinence
Voiding dysfunctions
Constipation
Fecal incontinence

Pelvic Pain

Adhesions or scar tissue
Abdominal / hip / groin pain
Tailbone pain
Post-surgical pelvic pain
Interstitial cystitis
Vulvodynia
Pain associated with endometriosis
Pain with intercourse

Pregnancy and Post-Delivery

Low back pain
Sciatica
Pubic symphysis pain
Sacroiliac (SI) joint pain
Thoracic back pain
---
How can I schedule an appointment with the physical therapy specialist?
To ensure that treatment is covered by insurance, you can obtain a prescription from a physician for pelvic floor physical therapy
---
What should I expect during my visits?
An initial evaluation will be performed on your first visit and will include a complete history of your complaints, a musculoskeletal examination, and a brief internal exam.  The goal is to identify your impairments (such as joint mobility, soft tissue mobility, flexibility), neuromuscular control and bladder habits.   From the information gathered during the evaluation, a treatment plan is developed.
Our individualized treatment plan is based on our comprehensive evaluation and includes a great deal more than Kegel exercises.  The program is individualized to include one or more of the following:
Education:  Empowering women with knowledge to help themselves is our primary goal of treatment.  This self management program includes exercise, body mechanic instruction, diet and behavior strategies to manage symptoms at home.
Neuromuscular reeducation:  This includes pelvic floor strength training and relaxation, postural correction and core training.   Biofeedback is often used to facilitate the exercise approach.
Manual Therapy:  Restoring joint and soft tissue restriction around the pelvic girdle and lumbosacral areas will often help reduce muscle spasms and pain.
Physical Agents:  Biofeedback, electrical stimulation, ultrasound, and vaginal dilators may be included in the program.
Exercise prescription:  Exercises may include core strengthening, pelvic floor strengthening, stretching techniques, and aquatic therapy.
---
MEET OUR PELVIC FLOOR REHABILITATION SPECIALIST
Dr. Shelley Smith DiCecco, PT, PhD, CLT-LANA specializes in pelvic floor disorders and is a certified lymphadema therapist.  Dr. DiCecco received her PhD from Texas Woman's University in the Philosophy of Physical Therapy  in 2012.  She completed her Lymphology Association of North America (LANA) Certification in 2013. 
Act now!
Pelvic floor dysfunction is a major obstacle in the lives of many women. Finding a place for treatment should not be.  Finally … there is hope!
Contact us today for more information about women's health and pelvic floor physical therapy.