Dr. Harrison Goudiss, PT, DPT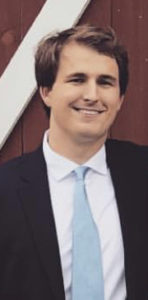 email hidden; JavaScript is required
Harrison was born and raised in Atlanta, GA, and attended Whitefield Academy in Cobb County for high school, where he played football and baseball. His first introduction to sports medicine and physical therapy came as a direct result of the many injuries he experienced while playing quarterback and wide receiver. Harrison saw physical therapy as the perfect blend of his passion for sports, empathy for people, and desire to help them return to the playing field. Harrison attended Furman University, where he graduated Magna Cum Laude with a B.S. in Health Sciences and played on the Paladin football team for a short time before experiencing a knee injury. While at Furman, he also participated on the club baseball, club rugby, and club ultimate frisbee teams, while playing every intramural sport available, and was elected Furman's Intramural Athlete of the Year in 2015. Upon graduation, he spent one year working as a behavioral therapist for children with Autism Spectrum Disorder in Greenville, SC.
Harrison went on to attend Emory University School of Medicine and earned his Doctor of Physical Therapy (DPT), graduating with Highest Honors in 2019. During his time at Emory, Harrison participated in the South Georgia Farmworker Health Project, served on the Admissions Committee, worked as a Graduate Assistant for Sports Physical Therapy, completed elective coursework in Dry Needling and Sports Physical Therapy, and completed 10-week clinical rotations at Sports Rehab Center in Sandy Springs and at Children's Healthcare of Atlanta in Duluth. He also worked on a research study regarding ankle sprains and dry needling.
Harrison is currently located at the Sandy Springs location, and his clinical interests include sports rehabilitation, sport and position-specific physical therapy, orthopedic rehabilitation, post-operative therapy, dry needling, soft tissue manipulation, and return-to-sport guidelines. Harrison is a member of the American Physical Therapy Association (APTA), as well as the orthopedic and sports sections, and is a member of the Physical Therapy Association of Georgia (PTAG).
In his free time, Harrison enjoys spending time with his wife, Hope, and his husky-boxer rescue dog, Zoey. Harrison is a massive Atlanta and UGA sports fan, and enjoys playing basketball, tennis, baseball, football and golf in his spare time. He is also an avid reader, loves cooking, and is actively involved in his church.